SPACE FIGHTERS SCI-FI COLORS
Ammo of Mig
Lägg till en bevakning så meddelar vi dig så snart varan är i lager igen.
SPACE FIGHTERS SCI-FI COLORS
Ammo of Mig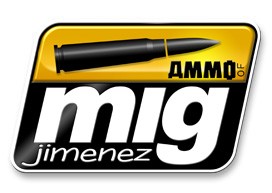 Acrylic colors set. 6 jars 17ml
Set that includes a selection of some of the most common colors used for spacecraft and vehicles. This set is focused on ships featured in film such as Galactica Cylon fighter, some imperial fighters and other enemy ships where dark gray and black dominate. The color black is also used to darken the color sheers and Titanium for some metal components, glass parts, and engine nozzles. All jars are acrylic and formulated for maximum performance both with brush and airbrush and will allow us to apply the correct color on our models. Water soluble, odorless, and non-toxic. Shake well before each use. Each jar includes a stainless steel agitator to facilitate mixture. We recommend MIG -2000 Acrylic Thinner for correct thinning. Dries completely in 24 hours.
Included colors:
A.MIG-046 Matt Black
A.MIG-047 Satin White
A.MIG-099 Crystal BLACK BLUE
A.MIG-193 TITANIUM NEW COLOR!
A.MIG-204 FS 36118 Medium Gunship Gray
A.MIG-210 FS 35237 Gray Blue