MODERN RUSSIAN CAMO COLORS VOL.2
Ammo of Mig
Lägg till en bevakning så meddelar vi dig så snart varan är i lager igen.
MODERN RUSSIAN CAMO COLORS VOL.2
Ammo of Mig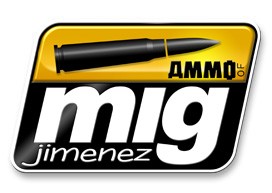 Authentic Russian colors for painting modern vehicles camouflage schemes. In addition to Vol.1, comes this selection of authentic colors for camouflage schemes currently in use on a wide variety of vehicles in numerous contemporary conflicts. This selection has been carefully prepared by experts from Russia for the most authentic finishes. All jars are acrylic and formulated for maximum performance both with brush and airbrush and will allow us to apply the correct color on our models. Water soluble, odorless, and non-toxic. Each jar includes a stainless steel agitator to facilitate mixture. We recommend MIG -2000 Acrylic Thinner for correct thinning. Dries completely in 24 hours.
Included colors:
A.MIG-046 Matt Black
A.MIG-051 Light Green KHV-553M
A.MIG-057 Yellow Grey
A.MIG-070 Medium Brown
A.MIG-083 Zashchitniy Zeleno ( Russian Postwar Green )
A.MIG-210 Gray Blue FS35237