WWII IMPERIAL JAPANESE NAVY
Ammo of Mig
Lägg till en bevakning så meddelar vi dig så snart varan är i lager igen.
WWII IMPERIAL JAPANESE NAVY
Ammo of Mig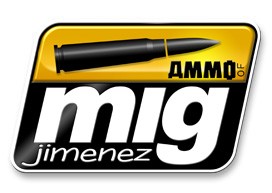 Acrylic colors set. 6 jars 17mL
High quality acrylic paints designed to camouflage the vast majority of the Japanese Imperial Navy's aircraft flown during World War II including the iconic Zero, the D3A Vale, and any more. The wide variety of accurate tones used on Japanese planes makes this set an essential resource for enthusiasts of this popular subject.
This set solves the problem of choosing the exact tones for your aircraft, saving valuable time while providing the most accurate colours. Each tone is slightly lightened to compensate for the scale effect of any model. This paint has an optimized formula for obtaining maximum performance with both brush and airbrush.
Six colours in 17 ml jars. Shake well before each use. Each bottle includes a steel agitator to facilitate proper mixing. Water-soluble, odourless and non-toxic. We recommend A.MIG-2000 Acrylic Thinner for proper dilution. Dries completely in 24 hours.
Includes the colours:
A.MIG-0046 Matt Black
A.MIG-0085 NATO Brown
A.MIG-0262 IJN Ash Grey
A.MIG-0263 IJN Medium Grey
A.MIG-0264 IJN Nakajima Dark Green
A.MIG-0265 IJN Mitsubishi Green